Haul Earth Ledger: Re-imagining Black Friday (ongoing)
Speculative Design / Design Fiction / Critical Design / Participatory Design

An informal co-design fiction get together (workshop) exploring an alternative narrative for Black Friday. In collaboration with Hugo Pilate.



You can take a look at the result here.




CONTEXT
We want something when we don't have it;
We don't take care of it when we have it;
We only miss it when it's gone.

These three principles explain both our urge for over-consumption, our careless approach to the environement and our passivity towards climate degradation. What if in the future, the day that now marks the pseudo-holiday marked by reckless over-consumption (aka Black Friday), is still celebrated but for different reasons?




SCENARIO
"...Ever since the Great Satisfaction of 2073, where the planet's warming temperature forced countries to cap their HDI (Human Development Index) to a "satisfactory" level, all the major stores consumer brands who could not adapt to the consumer culture breakdown that came with it have had to shut.. .Today, the hauling that once brought joy to so many online influencers and shoppers has become a tradition celebrated by makers of all stripes. Year after year the best creations from each Black Friday are collected in the online Haul Earth Ledger (Named after the Whole Earth Catalogue).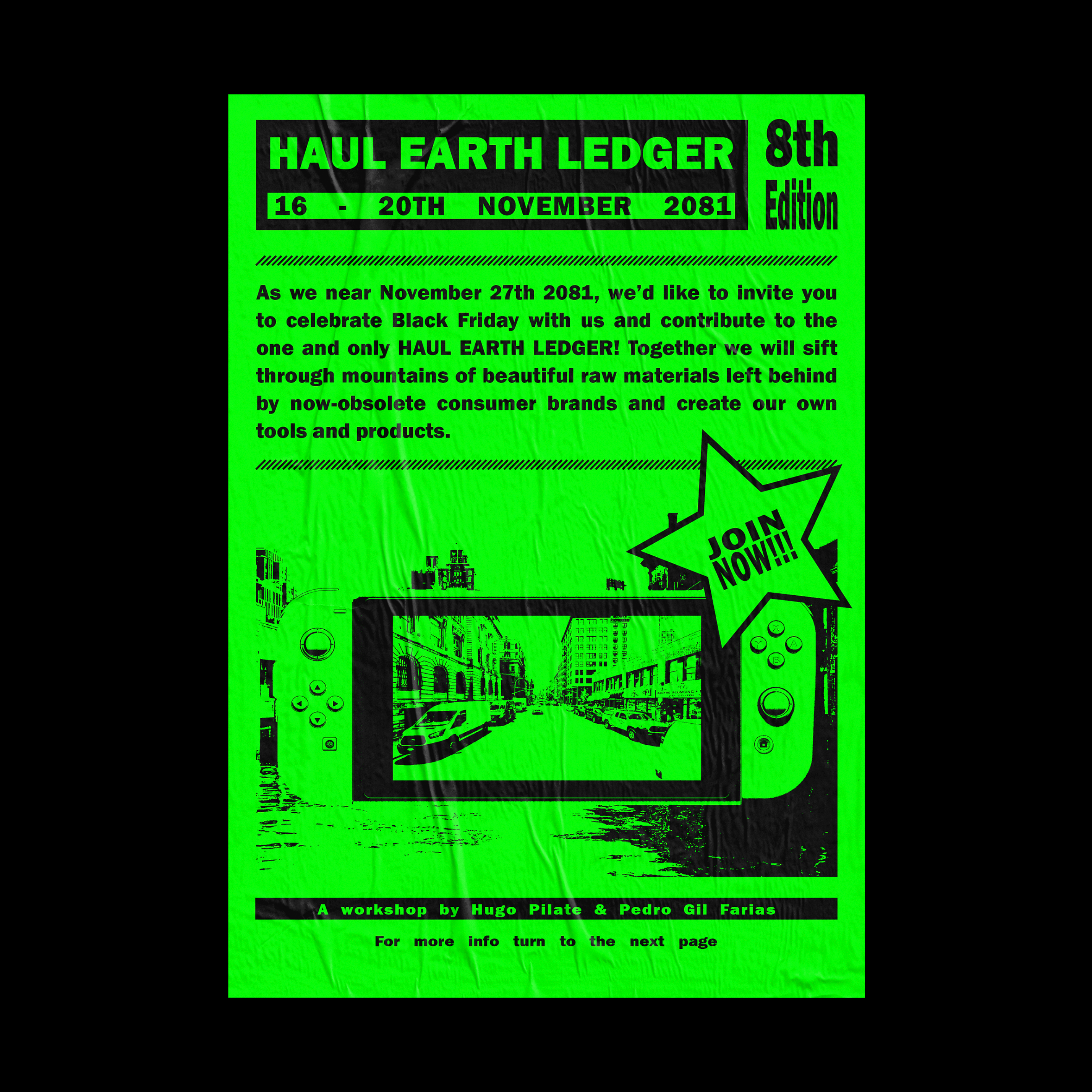 What a joy to see the malls and shopping avenues filled with creative minds and hands that come to celebrate and create their new designs. A common sight in today's shopping avenues and repurposed malls are what people refer to as 'Black Friday Foundries' (BFF): a variety of unique workspaces that resemble their ancestors the fablabs, stocked with amazing raw materials, devices, playgrounds, restaurants all made from what was left behind by obsolete corporations and those who've turned the page on their activities. This includes 'ready-made' products made from parts and pieces of consumer electronics, garments and other consumer goods from the good old 'Black Friday' days. With the endless amount of combinations and appropriations one could make, and the always changing assortment of products on offer, the only limitation is your imagination..."


WORKSHOP SESSION(s)

The session was held as an open office hours format during the week of 16-20th of November. Each day myself and/or Hugo were available from 5-7PM and people were free to come in at a timeslot that would best suit them. The workshop was fully held online using Google Meet and a bespoke made MIRO board.




The main activity involved the participants immersing themselves in the scenario and imagining that they were participating in the 8th edition Haul Earth Ledger as creators and inventors. To achieve this, the participants were tasked to create a digital collage by using products and parts that in the proposed scenario were now obsolete and out of production. This resulted in over 20 creations and proposals from a future where Black Friday does not celebrate consumption but creation!